Workshops and Training
Agnes Ginoba, president of H & R Mortgage, periodically presents workshops throughout the year in conjunction with the Fairfax County Public Schools Adult, Community Education (ACE) program, and Arlington Public Schools Adult Education Program.
For information on her next training class call Agnes at 703-937-7096.
To register for a class with the Arlington Public Schools Adult Education Program please call (703) 228-7218 or visit www.ArlingtonAdultED.org.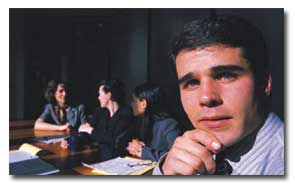 Upcoming Workshops
Loan Processing Made Easy
This course is designed to introduce loan officers and for individuals who have no mortgage finance experience to the mortgage finance industry. Loan Officers who would like a "refresher" course will benefit from this class too. It is focused on loan origination in its most basic form – as easy to understand, step-by-step method of teaching.
The Loan Processing Made Easy workshop is also designed to help the loan officer/processor have comprehensive knowledge of the mortgage loan process. In this class we will discuss the importance of thoroughness and accuracy in loan processing, and it's impact on the time involved in closing a loan. The steps involved in loan processing will also be explained in detail, along with the required documentation. This will give the loan officer the ability to process loans more efficiently and streamline the approval process. Finally, the course will explain the closing procedures and how to ensure a smooth transaction.
Loan Officer/Processor Boot Camp (recommended for the Experience Loan Officers)
This course offers sales training, as well as handling customer objections positively in a professional manner. The course provides many techniques for increasing the amount of loans in the pipeline. The course emphasizes: effective processing, including the importance of obtaining all necessary documents, as well as anticipating issues which could cause a delay in the loan closing.
This course also discusses the process of "registering" a loan. This includes a detailed explanation of required loan documents, their importance, and how to convey this information to the customer. This step not only allows the loan officer to generate rapport with the customer, but also is a technique to build a referral business and build trust.
Understanding the Ameridream Program
Learn about the Ameridream Program which provides grants for down payment assistance from Agnes Ginoba the mortgage loan expert and President of H & R Mortgage.
More Info on Upcoming Workshops
For more information on these upcoming workshops, please visit www.fcps.edu/aceclasses or call Dorothea Lucier at 703-658-1219.
Previous Workshops
Wednesday, May 2: "Your Credit – Scrub and Improve It!" (BE01151) from 7-10 p.m. at Annandale High School, Main Entrance, 4700 Medford Drive, Annandale, VA 22003. Tuition is $39.
Agnes will help you solve the mystery of credit reports. In this dynamic workshop she provides seven tips on how to quickly increase your credit score. She will explain the "FICO" score and the 4C's of credit, how to request your credit score and what is considered "alternative credit." Workshop includes a 38-page workbook.
Wednesday, May 16 – Wednesday, July 25: "Your Career: Loan Processor/Loan Officer." (BEO1181) 30 hours, 7- 10 p.m. at Marshall High School, Entrance #1, 7731 Leesburg Pike, Falls Church, VA 22043. The tuition is $399..
This ten-week course will help you develop a career in the mortgage industry. The comprehensive workbook will show you how to process loans from start to finish, with definitions of common mortgage terms, the "four C's of credit." instructions on how to conduct successful loan interviews and complete Universal Residential Loan Applications and. Strong English speaking skills are recommended.
Register in advance at www.fcps.edu/aceclasses or call 703-658-1201 weekdays. For more information on either of these workshops, call Dorothea Lucier at 703-658-1219.
For information on Agnes' other upcoming workshops, call her at 703-937-7096.